2015 Summer Food Program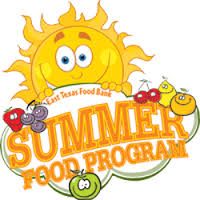 Our children need nutritious meals to learn, grow and thrive, even when school is out. With 1 in 4 East Texas children being food insecure, school lunches play an important role. But what happens during the summer time? The Summer Food Program helps fill that hunger gap ensuring that children continue to receive nutritious meals during the summer. We also provide some fun activities, and even manage to sneak in some exercise! 2014 was our most successful year to date, averaging 30+ meals per day!
From July 6th through August 14, The Chaparral Center will serve FREE lunches to children ages 1 to 18 and special needs adults up to age 21. Lunch will be served between 11:30 and 12:15 PM. Snack will be served between 12:15 to 12:30 PM. No registration and no sign-up required.
Alto Food Pantry Reminder
For clients working past 3 pm during distribution day, please consider giving a note to a trusted friend or family member to pick up on your behalf. If you prefer to do your own pick up, we may, on a case by case basis, make arrangements for a late pick up. Please contact Siu Chapa, Executive Director, at 936-465-9797 BEFORE distribution day. The pantry does not deliver.